Description
| | |
| --- | --- |
| Model Number: | DMX809S |
| UPC: | 1019048234902 |
| Condition: | New |
| Shipping: | Ships Within 1-2 Days |
Overview
Not your typical car stereo
The Kenwood Excelon DMX809S multimedia receiver uses audiophile-grade components to deliver outstanding sound quality. Its 6.75" capacitive touchscreen display gives you a premium command centre for a top-notch infotainment system. With built-in wired and wireless Apple CarPlay® and Android Auto™, you'll have all your most-used phone features on a big display. And if you're looking for some alternative music sources, take advantage of HD Radio®, high-res audio playback, and satellite radio with an optional tuner. Plus, Bluetooth makes hands-free calling and music streaming easy.
And if that's not enough, Kenwood backs this Excelon Series receiver with a 2-year warranty.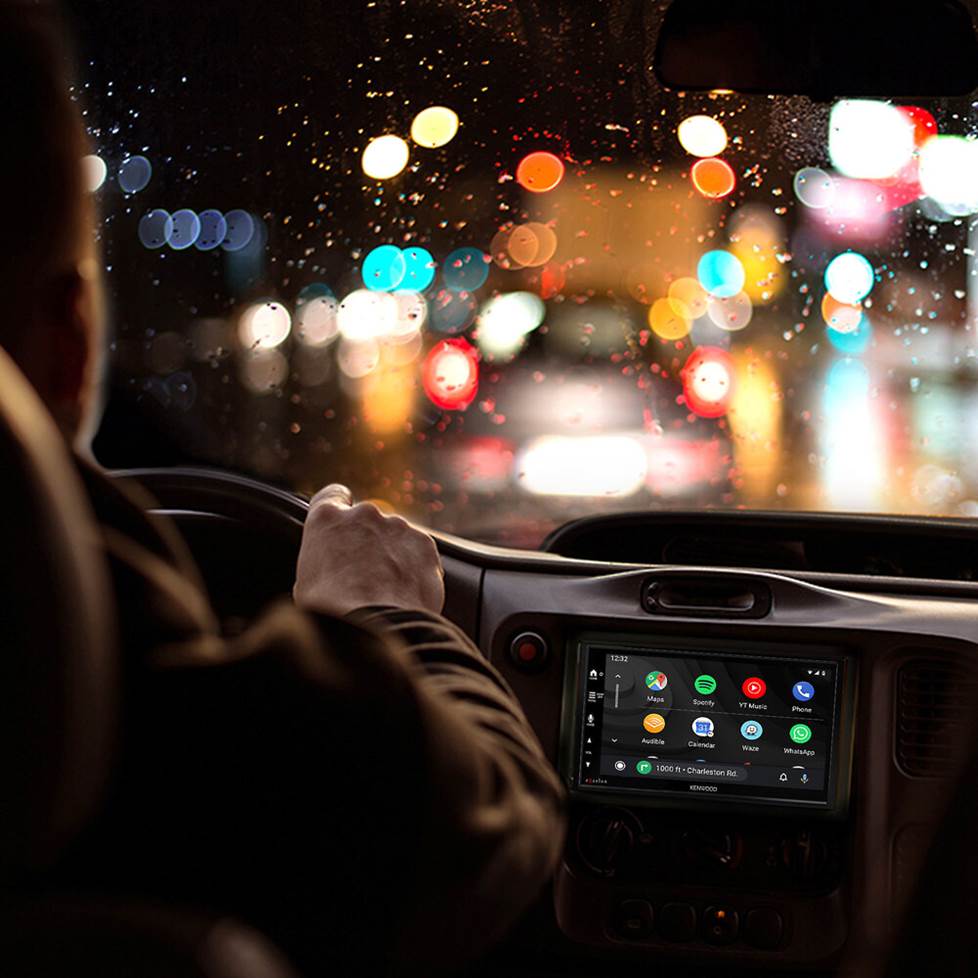 Having a familiar interface like Android Auto working for you can be a comfort during drive time.
Serious phone integration
Apple CarPlay and Android Auto put your phone's content at your fingertips. This stereo's controls behave like your phone's interface, so there's no learning curve. Plug in or wirelessly link your Android™ or iPhone®, and you'll get voice control access to your navigation, phone calls, weather, text messages, and of course all your music. Get more info at www.apple.com/ios/carplay and www.android.com/auto. 
Android owners, you can mirror your phone's screen using this receiver's USB port and the free Mirroring OA for Kenwood app. This receiver's micro-HDMI input also lets you mirror the screen from select phones by using a compatible HDMI adapter for your phone (sold separately) and Kenwood's KCA-HD200 micro HDMI-to-HDMI cable.
Bluetooth for everyone in the car
The DMX809S lets you pair two Bluetooth-equipped phones and quickly switch between them for hands-free calling — an excellent road trip convenience. And when you're streaming music, Kenwood's Music Mix lets you pair five phones so everybody can pick their tunes for an on-the-fly listening session.
Add a backup cam and two more
Vehicle cameras are a must for safer driving, and Kenwood gives you two dedicated video inputs for front and backup cameras. And if you need one more, you can configure this receiver's rear 3.5 mm A/V input as a third camera input. You can use the display's electronic angle adjustment to tailor the screen's contrast for the best viewing in your vehicle's dash location. This Kenwood plays video content in bright, clear detail when you're parked. When you're on the road, you can entertain your passengers by sending a movie from the receiver to a rear-seat screen.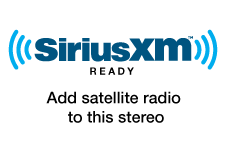 Many paths to music
Kenwood includes a built-in HD Radio tuner so you can enjoy the very best audio quality in radio, plus extra programming choices on second and third channels when available. When your phone's not plugged in, a rear USB input opens up your source options too, and there's great news for audiophiles — this receiver supports high-res file playback of music stored on a USB drive. And if you're looking for radio stations that won't fade away, add a SiriusXM tuner (not included) to this Kenwood to enjoy satellite radio's extensive programming wherever you may roam.
Tune it up!
If you're a big-time system builder, you'll appreciate how the DMX809S includes three pairs of 5-volt RCA preamp outputs for an ultra-clean signal when you add amplifiers to your system. And if you're building a 3-way system, this receiver gives you that next-level crossover capability.
You'll also dig Kenwood's suite of sound-crafting tools, including a 13-band equalizer, deep crossover settings, and built-in digital time alignment. The receiver's processing power brings back the depth and detail of all your digital music sources. If your car speakers are located down low in the doors, this receiver offers Stage EQ, which adjusts your music's frequencies to virtually "raise" your speakers for better-sounding, more natural imaging.
iDatalink Maestro lets you keep your factory extras
Combined with an iDatalink Maestro RR or RR2 interface (sold separately), the DMX809S includes intuitive vehicle integration that lets you keep factory features that you'd otherwise lose when you install a new radio. Once you've identified your vehicle, you'll see the iDatalink module offered on the way to the Shopping Cart if it's compatible.
Bluetooth note: Use of this receiver's Bluetooth features will depend upon your phone's Bluetooth capabilities. Learn more in our article explaining Bluetooth profiles.
Smartphone note: If you're going to use your smartphone with this receiver, be sure to check "Details" for compatibility information.
You'll need a wired connection to your parking brake to access settings and other features on this receiver. Your parking brake must be connected and set in order to view video on its screen.
Product highlights:
General features:
digital multimedia player with AM/FM tuner
plays media loaded with MP3, WMA, and AAC music files (plus high-res WAV and FLAC)
6.75" capacitive touchscreen HD display
HD Radio tuner built-in
Waze-ready with Apple CarPlay or Android Auto
electronic viewing angle display adjustment (display does not physically move)
fits double-DIN (4" tall) dash openings
Smartphone features:
wired and wireless Android Auto compatible

compatible with Google Assistant voice control when using Android Auto

wired and wireless Apple CarPlay compatible

Siri voice control for select iPhones

wired mirroring for iPhone and select Android devices via HDMI (adapters sold separately)
wired mirroring for select Android devices using USB port and free MIrroring OA for Kenwood app
built-in Bluetooth with dual phone connection for hands-free calling and music streaming
rapid Android charging via USB port
Audio/visual features:
13-band graphic EQ
time alignment
Drive EQ and digital signal processing
3-way crossover
Expandability:
compatible with SiriusXM satellite radio tuner
inputs: rear USB-A input, two camera inputs, rear analog A/V input (can be converted to third cam input)
outputs: rear video output (RCA), 6-channel preamp outputs (5-volt front, rear, sub)
Other information:
wired connection to parking brake required to access settings and other features on this receiver (the brake must be connected and set for video display)
built-in amplifier (22 watts RMS/50 peak x 4 channels)
works with iDatalink Maestro RR or RR2 modules

retains factory features in a wide selection of vehicles
displays engine performance data on touchscreen

warranty: 2 years
Our 30-day money-back guarantee
MFR # DMX809S
We have the lowest price guarantee !! Before you buy, if you see a lower price from any authorized Canadian dealer for any model, either online, in-store, or in print, we will beat that price by 20% of the difference. Just call or text us @ (855)954-2777 or email us [email protected].
The Details:
Retail Store Purchase:
If you are making a purchase at our retail stores, please show us a copy of the competitors advertisement with the lower price. Your sales person will verify that the product is in-stock and available for sale from the competitor, and meets the conditions as described below, and then will beat the price by 20% of the difference.
On-line Purchase:
If you are making your purchase on-line, please send an e-mail to [email protected] with the details of the competitors offer (a screenshot of the product page, or hyperlink). We will verify that the product is in-stock and available for sale from the competitor, and meets the conditions as described below, and get back to you shortly with a coupon code which will allow you to complete your transaction on-line at the lower price.
Please note: While most requests can be approved very quickly, on occasion it can take up to two business days to verify that the request complies with the conditions below.
Conditions:
In order to qualify for Bass Electronics's 20% of the difference price beat, the advertised item must be the same brand name and model number as our model, and be in same condition being offered by an authorized Canadian dealer with full Canadian manufacturer's warranty.  Any shipping charges applicable for delivery to your home will be factored into the price comparison calculation. Please note, our Lowest Prices Guaranteed offer does not apply to Discontinued, Demo, Final Clearance, One-Of-A-Kind, Limited Quantity and Special Order Products. Price Beats are limited to personal purchases only, we reserve the right to limit quantity. Price beats are limited to one item per customer. Limited Time Specials including Boxing Day and Black Friday are also excluded. Of course any advertising errors or misprints also do not apply.
Payment & Security
Your payment information is processed securely. We do not store credit card details nor have access to your credit card information.